Posh Tots Children's Boutique Online
Welcome to Posh Tots Children's Boutique, located in beautiful Augusta, Georgia. We are the experts in the classic Southern style that makes your precious little ones the best dressed around. Our carefully curated collection of luxury and upscale designer kidswear, gifts, and accessories is the best you'll find. From newborn baby gowns to tween dresses, and everything in between, we have the options to make your experience pleasurable and complete.
Collections For Your Little One
Whether you need socks, bibs, toys, or something else, our collections won't disappoint. Check out our best sellers for the most popular additions, or browse our extensive collection of accessories for a children's boutique online experience that can't be beaten.
For those warm summer months, scope out our swim collections. Children's skin is delicate, so protect it with rash guards designed with their small, active frames in mind. Pair the guard with a set of trunks, or a swimsuit and a wide-brimmed hat for maximum protection while they have fun in the sun. For those chilly winter months, browse our long-sleeved dresses, warm coats, and cozy onesie pajamas to ensure your little one stays comfortable and snug all winter long. Whether your child needs a cardigan to layer over their T-shirt or a pullover to cover their romper, our online children's boutique has your little one covered.

No matter the time of year, we offer designer kidswear at affordable prices to make sure your children are the most stylish and most comfortable kids in town. Trust our team of experts to curate the clothing your children won't ever want to take off.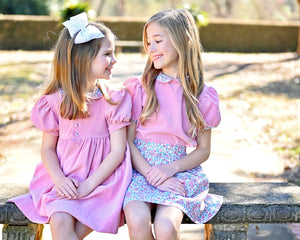 All The Top Brands
We carry all your favorite luxury kids' clothing, shoes, accessories, and gear. Some of the brands in our online children's boutique include:
Everything
For Your New Baby
Expecting a new little one? You can now register for the essentials right on our website! Looking for a gift? From sunglasses to totes, teethers to stuffed bunnies, and more, we have what you need! Trust this online children's boutique to take care of you and your gift needs today.
Need help? Set up an appointment for a personal shopping experience, and we'll guide you to the products that will fit your little one the best. If you need help navigating our registry, we'll get you set up and ready for your new baby in no time. Our baby boutique is waiting for you! Oh, and don't forget to check out our sales section for the best discounts on the clothes you and your children love!